History of Equator College
In 1987, Dato' Chuah and Datin Chuah, a dedicated and determined couple established Equator College when they decided to venture into the art, design and visual communication education arena.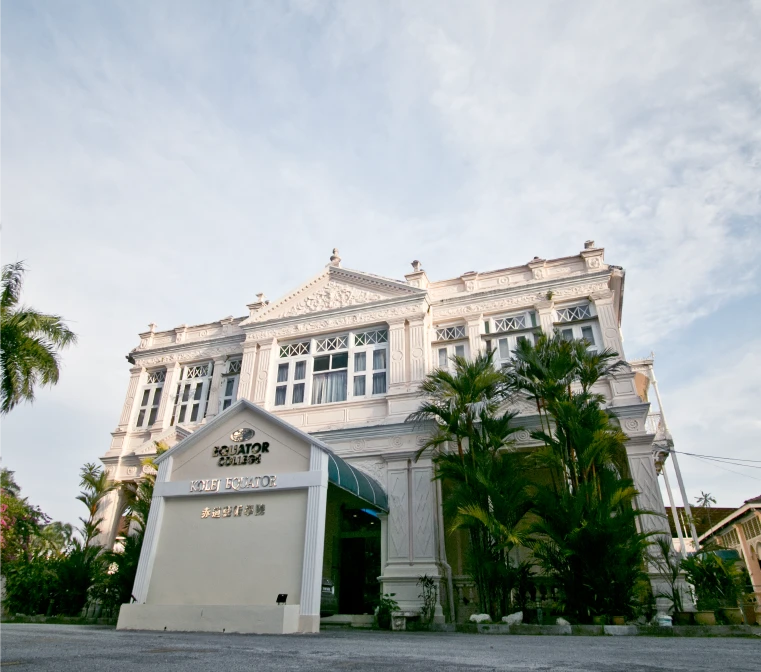 Using a rented place at a second floor suite on Penang Road, Equator college (previously known as Equator Academy of Art) was established on 28th April 1987. It was here that the first batch of students consisting of 7 young adults received their first lessons in the art and design discipline. Within a short period of 3 years, Equator College's courses had gained popularity in a momentum that none could have imagined, and with the subsequent increase in student numbers, it resulted in a perennial space problem.Equator's at one point in time, had 3 branches to accommodate all its students with the occupation of premises at Dato Keramat Road, Seang Teik Road and Anson Road. Now, it looks as if the space problem is a thing of the past because the management embarked on a bold millennial project of expansion by moving into 7, Leith street a stately pre-second world war mansion that has an exceptionally rich heritage past.

As the new millennium neared and the old century bade its goodbye, the eagerness to transverse the trans-century digital divide was greeted by the official opening of Equator's own 5 storey Wisma Equator at Amoy lane on the 11th of April, 1999. This landmark establishment at the Wisma heralded the coming of the age of Equator as a centre of educational excellence in the up-and-coming fields of art, design and multimedia.

With well connected international linkages, EC is poised to grow from strength to strength in the coming years. It is no wonder that Equator has matured and developed into the art and design specialist college that it is today, and still the only specialist design college in the Northern Region of Malaysia.
Equator College Leith Street Campus
7 Leith Street
Equator College Anson Road Campus
47 Anson Road
Equator College Amoy Lane Campus
Wisma Equator, 8A Amoy Lane
Equator College Seang Teik Road Campus
63 A,B,C Seang Teik Road