[vc_row full_width="stretch_row_content_no_spaces"][vc_column 0=""][rev_slider_vc alias="designcorner2″][/vc_column][/vc_row][vc_row 0=""][vc_column 0=""][vc_column_text 0=""]
Loh Jye Jiun | My Tiger Values Winner
[/vc_column_text][vc_single_image image="3474″ img_size="large" alignment="center"][vc_column_text]
MyTIGER Values Art Competition 2020
Global Tiger Day or International Tiger Day has been held on the 29th of July annually since 2010 when it was first created at the Saint Petersburg Tiger Summit. 
This was due to raise awareness of the decline of wild tiger numbers, leaving them on the brink of extinction and to encourage the celebration around the important work of Tiger conservation. This was due to the response of the shocking news that 97% of all wild tigers had disappeared in the last century, with only around 3,890 left in the wild.
Global Tiger Day aims to bring attention to this fact as tigers are on the brink of extinction and try to halt their decline. Many factors have contributed to their fall in numbers, including development &  urbanization, deforestation, and poaching. 
Many international organizations are committed to this day, including the World Wildlife Fund, the International Fund for Animal Welfare, Malaysian Nature Society, TRAFFIC, Wildlife Conservation Society-Malaysia, Wildlife Society of Selangor.
The MyTIGER Values Art Competition is held every year to celebrate tigers as a national treasure in Malaysia as well as to empower artists and designers regardless of age to express their creativity on the existence of these magnificent striped cats. 
Maybank embraces the art competition with their T.I.G.E.R. values in collaboration with World Wildlife Fund is one of Malaysia's leading organization in spearheading the tiger conservation effort in the country. This year, the 2020 edition of Maybank MyTIGER Values Art Competition The TIGER values (Teamwork, Integrity, Growth, Excellence & Efficiency, Relationship building) highlighted in the competition provided a unique experience for the contestants and jury alike. With the lockdown on movement imposed on the country from March to June due to the COVID19 pandemic, nearly all forms of human activity including art was disrupted.
Nevertheless, in the face of challenge, the endeavor of nurturing young talents among the art students of Malaysia was carried out to completion. Despite the lockdown and the slowdown, the juries were greeted with well over 400 entries from colleges and universities across the nation.[/vc_column_text][vc_column_text 0=""]The categories this year consist of Illustration, Sequential Art, Photo Imaging. 
Under the Illustration category, our student Loh Jye Jiun made us proud by sweeping the 2nd place with her artwork entitled "The Secret Behind the Glory". Her work highlights the importance of teamwork and relation-building in achieving success as introduced in the My T.I.G.E.R. values.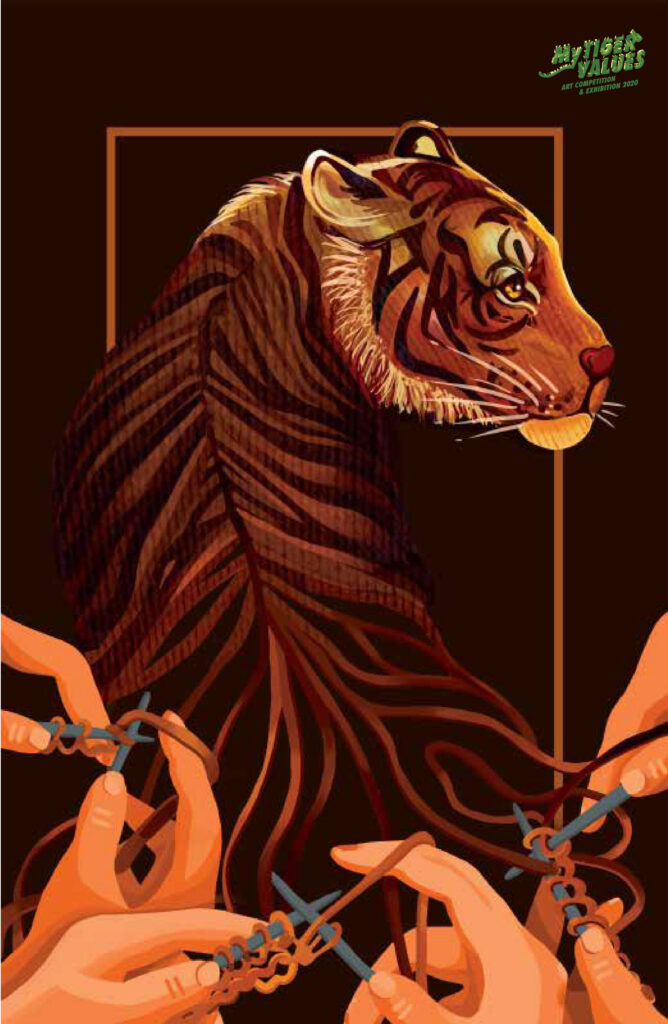 The Tiger is actually formed by many lines when you look deeply. Without every single line, it couldn't be. This shows that teamwork and relation-building is really important to achieve success. The knitting with hand shows the values of teamwork as knitting work usually needs time and effort together. 
It brings the meaning that much effort, attention, and values need to be implemented and insist on in order to produce a glory image. Obviously, "TIGER VALUES" is the driving force behind success and it was the secret behind glory
Jye Jiun is currently in her senior year of Diploma in Graphic & Multimedia Design. A shy girl ready to take on the world of design.[/vc_column_text][/vc_column][/vc_row][vc_column css_animation="none"][vc_btn title="Get Back to Previous Page" link="url:https%3A%2F%2Fwww.equator.edu.my%2Fbest-art-design-college%2Fdesign-corner%2F|title:Design%20Corner||"][/vc_column]